Rookie Currency Traders Are Causing Big Problems
by Lananh Nguyen from Bloomberg
Job cuts leave fewer senior staff to handle black-swan events

Inexperienced traders amplified pound's flash crash, BIS says
It's been something of a common lament among Wall Street veterans for a while now. And it goes, more or less, like this: All these darn twenty-something-year-olds around here have no idea what they're doing.
Perhaps it's just the typical grousing of community elders, but last week, the Bank for International Settlements said there may be something to the notion.
Tucked deep into a report on foreign-exchange market liquidity was a brief paragraph on how rookie traders could be partly to blame — along with falling volumes and the growing prevalence of electronic trading — for the flash crashes that have roiled the $5.1-trillion-a-day currency market over the past two years.
One case the BIS found particularly worrisome was the time last October that the pound plunged 9 percent in a matter of minutes during early trading hours in Asia. The organization concluded that "less experienced" traders handicapped by a limited knowledge of which algorithms to use at that moment "amplified" the rout.
For Keith Underwood, the report just confirmed what he's known for a long time.
"If there's a shortage of senior people, there's a shortage of knowledge," said Underwood, who runs his own foreign-exchange consulting firm after a 25-year trading career that included stints at Lloyds Banking Group Plc and Standard Chartered Plc. In his trading days, he said he was leery of handing off positions to junior staff in other regions overnight. "I've certainly adjusted my orders, and I've also adjusted my sleep."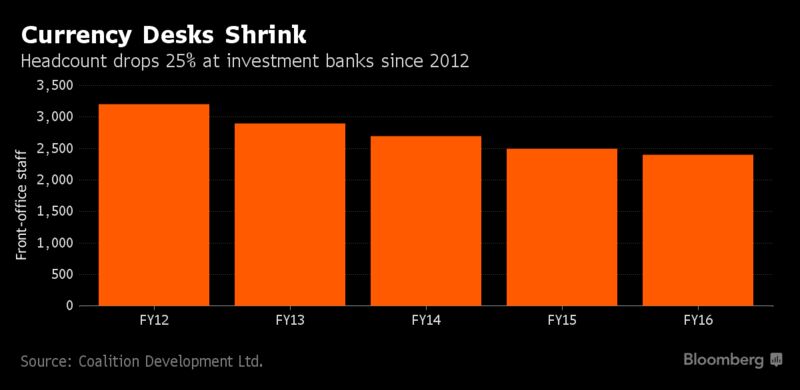 Younger, lower-paid employees make up a greater percentage of trading desks today than they have in years.
Part of banks' broader effort to cut staff, boost electronic trading and lower costs following the global crisis, the "juniorization of Wall Street," as some call it, has been especially acute in the foreign-exchange market. The world's 12 largest global banks cutfront-office staff by about 25 percent in Group-of-10 currency markets over the past four years, according to Coalition Development Ltd.
That's coincided with a shift to automation, which slashed staffing needs and spawned a new, and small, generation of quantitative traders whose decisions are driven by mathematical models. For every managing director with about 10 years or more on the job, there are as many as seven less-experienced staffers on currency desks, Coalition said. The ratio was one-to-four just five years ago.
"The old hands who have seen crazy things happen, they're gone," said Michael Melvin, a professor at the Rady School of Management at the University of California San Diego and a former managing director at BlackRock Inc.
'World Is Ending'
BIS's write-up on the effects of juniorization, which stemmed from discussions with market participants, echoed conclusions put forth in an earlier study that BIS staffers did in tandem with the Bank of England.
Franz Gutwenger, a recruiter in New York, estimates that about 75 percent of recent job openings at banks' currency desks were for candidates with three to five years of experience. The advertised roles are mainly for assistant vice presidents with base salaries of up to $150,000 a year, or vice presidents who earn about $200,000 a year. That kind of pay is a fraction of the salaries that top traders can make.
Having so many inexperienced people manning a trading desk is risky, Gutwenger said, and senior staff should be on hand in critical situations. Melvin said that many young traders can panic and think "the world is ending" when suddenly exposed to a market crisis.
Read Next: Currency Traders Race to Reform 'Last Look' After Bank Scandals
"For many of the jobs, day-to-day, it's all good, there's no issue," he said. "But when extraordinary events happen, it really is useful to have some seasoned old hands around."
Deliberations in Retrial of Jefferies Bond Trader May Raise Concern for Prosecutors
Prosecutors may be wise to watch out for black cats
By Andrew Beresin • 01/22/17 7:30am
Bond Traders Beware: Jesse Litvak Reversal Is Not a Get-Out-of-Jail-Free Card
Former Jefferies bond trader has not entirely escaped the Feds' grasp
It's been nearly a year since former Jefferies Group Inc. bond trader Jesse Litvak had his federal conviction overturned by the Second Circuit U.S. Court of Appeals, despite evidence that he lied to clients about mortgage bond prices in order to inflate his trading profits by $2.5 million. But whether you're a sell-sider hawking merchandise to the highest bidder, or an institutional buyer looking to scoop up bargains from a slightly-less-in-the-know dealer, here's a word to wise about playing fast and loose with the truth about bond prices: Not so fast!
While Litvak's conviction was indeed overturned by the highly influential Second Circuit, where so many complex and cutting-edge securities cases are tried, the reasons could aptly be described as good old-fashioned "technicalities" in legal parlance.
Litvak's fraud conviction related to misleading customers who were participants in the U.S. Treasury's Troubled Asset Relief Program (TARP) could not stand, the Second Circuit decided, because of a lack of evidence that Litvak's misleading conduct was material to an investment decision by the Treasury. Because the Treasury had ceded complete authority to its investment advisor—who actually purchased the bonds from Litvak for the TARP program—it wasn't actually the Treasury's finger on the trigger. Thanks to that technicality, Litvak's conduct could not have been fraud against the TARP.
The Second Circuit also decided that the trial court judge, Chief Judge Janet Hall of the New Haven, Connecticut Federal District Court, erred when she did not allow Litvak's trial attorneys to present expert testimony that Litvak's misstatements were not material to the decision by other investors to purchase bonds from Litvak. This is where it gets very interesting for bond traders wanting to know where the right side of the line is when it comes to communicating with customers about pricing.
Despite having his conviction reversed, Litvak did not escape the Feds' grasp entirely—unlike the portfolio managers whose insider trading convictions were overturned by the same court in its now-famous Newman decision back in 2014. There is a chance Litvak may not escape at all, because the Second Circuit ordered another trial—scheduled to begin in January—where such expert evidence about materiality will be permitted.
At Litvak's new trial, his attorneys will present expert witness support for the idea that (brace yourselves) investors normally expect statements from bond traders they deal with to be biased and misleading, and so such statements should not be considered material to investor buy/sell decisions. The government will likely counter with arguments that investors, in deciding whether and at what price to buy or sell bonds, do take into account bond traders' representations about the prices where they've traded the exact same bonds in the minutes and even hours prior to the investor's buy/sell decision.
The overarching question is this: do sophisticated bond traders actually care, or even believe it when their broker tells them that he or she just bought the same bonds a few ticks lower—when in actuality the broker has been sitting on the bonds for days after having bought them for 5 percent less? In an opaque market like mortgage bonds, where you can't just reliably punch up a ticker symbol and see a real-time quote like you can with stocks, it's at least an interesting question. The government certainly thinks the answer is yes.
In the meantime, while they wait for a second crack at Litvak, the Feds have not exactly beat a retreat. They've been busy filing Litvak–type cases against other sell-side bond traders, as well as extracting guilty pleas and levying large fines and industry suspensions on others. Three ex-Nomura traders are slated to go on trial early next year in federal court in Hartford. This past August, the former top RMBS trader at Goldman Sachs Co. agreed to pay $400,000 and accepted a two-year ban from the industry in order to settle similar charges by the SEC. In September, a former Jefferies colleague of Litvak's agreed to a smaller SEC fine and shorter suspension for merely stretching the truth, as opposed to bludgeoning it.
And the spotlight may not just be on sell-siders, as SEC enforcement staff have stated publicly that more Litvak-type cases would be coming, and that they would not just focus on bond dealers. What's that mean exactly? It's hard to say at this point as no similar cases have yet been brought against any buy-side bond market players. But unless President-elect Trump takes a hatchet to the SEC and DOJ after he gets done with the EPA, all bond traders may want to tap the brakes before telling clients or counterparties stories about bonds—the kind of stories that would more appropriately be found in the fiction aisle.
Andrew D. Beresin is a practicing securities attorney, former hedge fund trader, and a senior consultant with UnderwoodFX. He represents Wall Street firms and individuals in compliance, enforcement defense, and regulatory advisory matters, and provides expert services on exchange-listed trading. Beresin is a former federal district court judicial clerk and a graduate of Harvard Law School.
Trump change: Winners and losers in the FX market
Underwood FX builds out expert offering
The firm brings in legal, futures, and other OTC professionals as it expands into traded markets intelligence
FX Week
By: Laura Matthews
November 4 2016
Underwood FX has expanded its expertise through a new hire and several shared working relationships, as the financial consulting firm continues to broaden its footprint in traded markets intelligence.
Barclay Leib, an alternative asset research consultant at Sand Spring Advisor, is partnering Underwood FX to provide alternative asset consulting and securities law-violation investigation intelligence.
Meanwhile, Andrew Beresin, a practising New York State attorney, has joined Underwood FX, bringing experience in equity derivatives trading. He also specializes in legal issues such as regulatory inquiries, investigations and enforcement defence.
Jennifer Ropiak, director of Trusted Partner Metals, will also be collaborating with Underwood FX. She brings a wealth of experience in over-the-counter and futures markets, and will lend her knowledge of precious metals market structure, trading and product development.
Keith Underwood, a 25-year veteran of FX trading and risk management, launched Underwood FX in 2015, in an effort to help the legal and investment community better understand and evaluate foreign exchange issues. He confirmed the hires and partnerships.
"We are thrilled to have the depth of experience and insight that Barclay, Jennifer and Andrew will be bringing to our clients. As Underwood FX expands further into traded markets intelligence, all will contribute unparalleled insight in their respective expertise to supplement our existing derivatives and foreign exchange expertise," Underwood said in a statement announcing the hires.
Brexit puts fintech and high-frequency trading firms in FX winners' circle
Friday, 24 Jun 2016 | 3:28 PM ET
CNBC.com
By: Keith Underwood
The British pound has dropped in excess of 10 percent from its previous close in the New York market overnight. Traders, portfolio managers, hedgers, punters, and economists have all denounced the Brexit decision as a huge negative for the pound. Money managers throughout the world have sold billions and billions of pounds to limit their U.K. exposure. What happened?
The analogy I use with my clients is to consider how Texas voted secession from the United States between 1836-1845. Yes, Texas exited the United States as its own country and there is even a Texas embassy in London to prove it. Anyway, if Texas were to do the same today, they would have greater autonomy to decide their own fate and pick and choose the laws they wish to impose on the electorate. They would own immigration, taxes, the law, and most everything else that didn't require outside assistance. The U.K. just left their United States but it's called the European Union.
OK so now what? Who wins and who loses in the currency market now that so much uncertainty has been unleashed for months and years to come? In my view, the London Foreign Exchange (FX) banks, still suffering from the manipulation scandal, will bear the brunt of the Brexit vote as will their clients, while the trading exchanges, high frequency trading firms and Fintech will benefit.
Losers
FX banks in London traditionally did very well during periods of increased volatility. Today however, with regulations crimping the amount of risk they can run and increased capital costs applied to holding those risks, banks are less likely to garner outsized gains. In an environment of increased volatility, banks tended to eventually widen their spreads and capture more profits. Today, with non-banks providing an ever-increasing amount of liquidity to the market, banks will find it tougher to pass their costs onto their clients.
End-users will also suffer, as wider spreads due to a larger risk premium in the market will make hedging and trading more costly. They will chose to forego hedging in the face of increased volatility (costs) thereby increasing their risks. The fallout is that doing business in British pounds will become more costly. Period.
Winners
Fifty-two percent of the U.K. voting population won today. Other winners will be the centrally cleared exchanges where currencies are traded. They will see more business as counterparty risk will be re-priced higher after the vote. Also, high frequency trading firms will undoubtedly benefit. These are firms that utilize computers to quickly scalp small price differentials or exploit changes in currency correlations over thousands of transactions an hour. They are typically winners in higher volatility periods and these firms have stepped into the currency market where the banks have retreated.
Additional winners after today's U.K. vote will be the fintech companies that figure out how to develop, implement and manage a distributed ledger technology (DLT) that will quickly reduce counterparty risk, margin requirements, and settlement in the roughly $5 trillion a day FX market. As these technologies come to market, they should be in a position to attract new entrants with lower transaction costs, increased transparency, and ultimately bringing increased liquidity to the market.
The currency market in the U.K. flourished for decades with liquidity on tap 24 hours a day with little to no regulatory oversight. With the result of the Brexit vote I'm afraid this trend will be reversed and the London market will undergo a period of lower risk tolerances from liquidity providers and increased costs which will bring forward the shuttering of loss making 3rd tier FX banks that can no longer afford to operate in such an operational unknown.
FastMatch to penalise liquidity providers that impact market
The changes, taking effect in the third quarter, aim to push away those who move the market after receiving an order
FX WEEK
Laura Matthews
06 May 2016
FastMatch will be adding a new variable to its rules in the third quarter of this year, which could result in a price penalty for liquidity providers who move the market, FX Week has learned.
Currently, the foreign exchange platform takes into account three variables when it determines which liquidity providers are best for customers to trade against – the price quoted, the historical response time and fill rates. The venue will soon introduce a fourth: market impact.
"We will look to see if, historically, the liquidity provider caused a market impact after they received orders from FastMatch," says Dmitri Galinov, chief executive of FastMatch.
If the liquidity provider causes market impact… then the liquidity provider will be penalised. We will adjust the price they quote Dmitri Galinov, FastMatch
"If the liquidity provider causes market impact – i.e. they moved the market in a direction of FastMatch's client buying or selling – then the liquidity provider will be penalised. We will adjust the price they quote. Basically, their price will not be as aggressive, so it will be a price penalty," he adds.
The fact that the venue has moved to include market impact in the core of its matching system highlights the increasing importance of this issue in the FX market.
Regulation has forced some participants, such as banks, to take fewer risks and customers looking to execute large orders can sometimes find it becomes more expensive to trade.
Sell side hit
"The regulations are really starting to bite, and I think this has negatively impacted businesses on the sell side. We see periods of extreme price movements that happen very quickly these days and I think those are going to continue to happen where there are fewer orders in the market. Top-of- book will still continue to look healthy, but the depth of the market could deteriorate over time," says Keith Underwood, principal consultant at Underwood FX Consulting.
"Regulations will pinch sell-side profits short-term, but will also produce a global code of conduct, similar to the ACI Model Code, which is being drafted by the Bank for International Settlements' Foreign Exchange Working Group. Ultimately, I believe the FX market will survive and thrive after regulations are fully implemented and a code of conduct is globally embraced," he adds.
"Natural selection"
Until then, FastMatch's Galinov has high hopes for his platform's rule change. Speaking with FX Week, he says the new rule will push away those who have an impact on the market and attract those who do not.
"It is really a natural selection of liquidity providers. I think what we are saying to the market is that FastMatch, as a venue, prefers the providers that don't move the market after they receive an order," he says.
"So it will attract the liquidity providers that really hold inventory. That's what a market-maker is supposed to do. Providers who as soon as they get an order from FastMatch just turn around and hit the market are the providers I think will kind of go away. We would give preference to market-makers that internalise more," he adds.
The forex trading floor of a bank in Singapore back in 2006. Photographer: Munshi Ahmed/Bloomberg
BLOOMBERG
February 7, 2016
Charlie Stenger, a currency-broker-turned-recruiter, has seen it all. One fired trader wept in his office. Another admitted he hadn't told his wife he was unemployed, and left the house every day in a suit to sneak off to a coffee shop. Then there are the delusional guys, who carefully explain how they're not interested in jobs that don't pay as well as those they just lost.
Stenger, who was laid off from ICAP Plc in 2013 and now works for Sheffield Haworth Ltd., tells the men and women he counsels: Take the pay cut. Oh, and don't wait for the phone to ring.
"This is crunch time — it's not looking good," Stenger said. "This is a shrinking pond."
The investment banking business has shed tens of thousands of positions since the end of the financial crisis, and the downsizing has been hard on foreign-exchange desks at many banks, including Morgan Stanley, Barclays Plc and Societe Generale SA. The industrywide job-axing sweep coincided with a shift to automation, which slashed staffing needs and spawned a new, and small, generation of quantitative traders whose decisions are driven by mathematical models.
There were 2,300 people working in currency-market front-office jobs at the world's biggest banks in 2014, a 23 percent drop from four years earlier, according to Coalition Development Ltd., an analytics firm.
The layoffs have continued and are unlikely to stop in the $5.3 trillion-a-day market. Revenue from from foreign-exchange divisions hasn't bounced back after falling to $6.5 billion in 2014, down almost 45 percent from 2009, Coalition data show. Currency trading in the U.K. and North America shrank by more than 20 percent in October from a year earlier, according to central banks in those regions. London is the biggest center for foreign-exchange trading.
"The business has to be downsized," said Keith Underwood, a foreign-exchange consultant who ended a 25-year trading career, including at Lloyds Banking Group Plc, in 2014. But it's not easy "for people who have been in a market for many, many years to see that they've been replaced by an algorithm."
Humans are up against formidable opponents across the industry. Take Virtu Financial Inc. Deploying sophisticated technology in the business, the company's computers can trade more than 11,000 securities and other products on more than 225 trading platforms in 35 countries. Because automation is so deeply ingrained in its business, it had only about 150 employees last year — generating more than $5 million per worker.
From his office at Sheffield Haworth in Chicago, Stenger doles out advice to friends still on foreign-exchange sales and trading desks. First, prepare to be laid off. When you look for work, plan on having to take a 25-percent reduction in pay. "Your stock goes down once you lose your job, and that's just the nature of the beast," said Stenger, whose clients typically earn annual salaries of $250,000 to $1 million.
Transferable Skills
Some ex-traders have moved to smaller houses or pulled kids out of private school. Those waiting for the ax to fall hoard paychecks. Stenger was out of regular work for a year after he lost his job; he was told about the lay-off four days after he learned his wife was pregnant with their first child. "There were periods where I wouldn't make money for 90 days at a time," he said, "and the insurance bill was still due every month, and the rent and the car payments."
Underwood, the consultant, said he left the market because regulators were cracking down on his niche by implementing stricter derivatives rules after the financial crisis. "My style of trading went out of vogue," he said. So the former head of foreign exchange trading for the Americas at Lloyds, who also led teams at Credit Agricole SA and Lehman Brothers in London and New York, reinvented himself.
In Control
"I couldn't be more happy," said Underwood, who described the hourly rates he charges as comparable to those of a senior lawyer. "There is more empowerment, with control of my future."
Many traders have discovered they have transferable skills. Some have landed work as salespeople or executives at financial technology companies, payment providers or trading platforms and exchanges. Others are using their knowledge to bolster banks' risk-management operations. Franz Gutwenger, a recruiter in New York, said one of his financial-institution clients has expanded its regulatory-compliance staffing by a factor of five.
"I don't think there's a whole lot from my generation that are still in the industry," said Guy Piserchia, who during a three-decade career led North-American foreign-exchange trading at Bank of America Corp. and Paribas, a precursor to BNP Paribas SA, in Asia. He left Wall Street in 2012 to become mayor of the 8,700-person township of Long Hill, New Jersey. Now he's deputy mayor, but said he wants to get back into the business in a role that combines his financial and government experience.
"With automation and electronic dealing, I think there are going to be fewer people" on foreign-exchange desks, Piserchia said. "The ones that have evolved and survived may be some of the better ones — or, as in life, may be some of the lucky ones."